Back in the day I had a "mommy blog" (who didn't, am I right?!).  So this little gem came up in my TimeHop today, since four years ago I shared this very post on Facebook.  I thought it fit well with the theme of this new blog, and it's fun to share a glimpse into what I was working through right after we moved to Arizona.  So enjoy!
When I was pregnant with Micah, I had this image in my mind that stayed with me through much of my pregnancy.  Let me try to describe it to you.  In my imagination, Micah was about 2 months old.  My house was sparkling clean, because of course babies sleep all the time so you have lots of time to stay on top of things.  In this dream world of mine, Micah and I would take a nap every afternoon on our guest room bed.  I would be showered and looking nice.  The room would be clean, and Micah would sleep for a couple of hours while I was rejuvenated.
I even mentioned something about this vision to my co-workers at the time who kind of scoffed at me.  I remember commenting on how much I was looking forward to my maternity leave because I needed a break.
Now that I have kids I understand why they scoffed.  However, at the time I was convinced this would be my daily reality.  Then Micah was born.  He never napped for longer than 20 minutes at a time.  When we was awake he wanted to be held or played with.  Even at 2 months he wanted to be entertained for those long hours during the day when he was awake.
Oh, and I had major feeding issues with him which made each feeding last for over an hour for those first three months that I nursed, pumped, and supplemented.
I almost never took a nap when he was little, because who can fall asleep and get a good rest in just 20 minutes.  Plus each nap was a decision: do I shower, eat, or empty the dishwasher, because I will only have time to do one of those things.
My house was a mess, I usually showered a half an hour before Ben got home, cried a lot.  And watched a lot of Oprah and Dr. Phil in the afternoon.
Those days were also filled with taking a million pictures of Micah every day, spending hours just staring at him, and carting him anywhere I wanted to go because it was easy, but it was no napping in a clean house.
There have been other times that I have had visions of what life will be like in the future.  Often times these visions come during a time of transition in my life.  For instance, in the months before we were moving to Phoenix, I had some new images of what my life was going to be like there.  First, our apartment was going to be clean all the time.  It is tiny after all and it wouldn't be hard to keep clean.  (What is it with me and images of always having a clean house?  I guess we all wish for the impossible.)
The second was that I was going to eat really healthy.  We weren't really going to have the extra money to be eating out very much, and I was convinced I was going to move down here and magically lose these last 10 Savannah pounds.
Guess what.  Ben's parents are coming into town tomorrow and as I look around my house I am thinking, "How did it get this messy?!  It was pretty clean yesterday!"  That vision has fallen totally flat.  Also?  I have not lost any weight.  In fact, I have been having an even harder time controlling what I eat, because I have been using food to "reward" myself after hard days.  Well guess what?  I have a 3 1/2 year old and a 1 1/2 year old.  All days are hard to one degree or another.
Have you ever heard the saying, "Wherever you go, there you are?"  I have been hearing it a lot lately in different venues, and it seems to fit my current struggles in life.  I have always had a hard time keeping a house clean (or even my room clean as a kid/teen).  Always.  It is a huge struggle for me.  I have also always had a hard time making healthy food choices.  I eat plenty of healthy food, but I add a lot of unhealthy food right on top.  Always.  Moving to Phoenix didn't magically make my struggles go away.  Just like having Micah and being home all day didn't magically allow me to keep a clean house.  Those of you with kids know, it just amplified the problem.
I am in the process of trying to conquer these issues in particular.  I am going through a process of trying out different home organization systems to give me a plan for how to structure my day to get things done.  I don't have a messy house because I am too busy.  I have a messy house because I hate cleaning and without some kind of external motivation I will just sit on my butt and do nothing.
I know what I have to do with the food thing, but it just involves being dedicated to being healthy.  I am keenly aware that every year my metabolism slows a little bit.  Getting to a healthy weight now, will make the struggle to maintain that weight easier than trying to lose it later.  Plus Phoenix isn't really the place you can hide behind bulky sweaters.
What about you?  What are your "things"?  What do you take with you wherever you go even though you wish you could just leave it behind?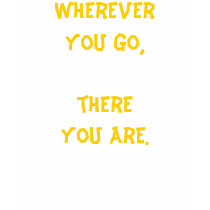 Update:  The two areas I highlighted in this post all those years ago aren't gone.  Although I have grown in both areas, they are both a work in progress and something that I have to continually work on, and be aware of in my life.  Maybe the lesson in that is we are all going to have "our things;" those things that are constant struggles for us our whole lives.  Those things might never become as easy for us as they are for other people, but they can get better.  As I write this, my house is not as clean as I want it to be, but it is also not a disaster, and I did finally lose those last 10 Savannah pounds this year.  So even though "wherever you are, there you are" don't lose hope, because who  you are can grow and change – I'm living proof of that.